RENAUD, Jeanne
1934 - 2020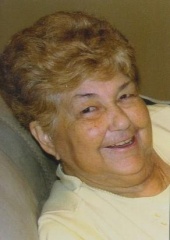 It is with great sadness that we announce the death of
Mrs. Jeanne Renaud
passed away on February 7, 2020, at the age of 85. She was the wife of the late Jacques Lacasse and the daughter of the late Wilfrid Renaud and the late Ida Racicot. She is survived by her son Claude Quenneville; her brothers : Don (Teri Renaud) and Fern; his sister Yvette (Yves Leroux) as well as several nephews, nieces, cousins ​​and friends. She was predeceased by several brothers and sisters.
A prayer celebration, in the presence of the ashes, will take place on Tuesday, February 18, 2020 at 10 a.m. at the COOPÉRATIVE FUNÉRAIRE DE L'OUTAOUAIS located at 95, boul. Cité-des-Jeunes in Gatineau (Hull sector). The family will receive condolences starting at 9:30 a.m.
Your expressions of sympathy can result in a donation to Mathieu-Froment-Savoie Foundation.
The family wishes to thank the staff of La maison Mathieu-Froment-Savoie for the good care provided.
Your condolences can be sent to : www.cfo.coop
Write your sympathies or tribute