Pereira, Deotilde
1939 - 2016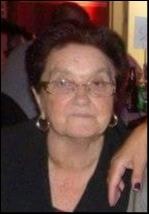 Madame Deotilde Pereira Melo Sampaio
It is with sadness that we announce the passing of Madame Deotilde Pereira Melo Sampaio on October 29th, 2016 at the age of  76.
Beloved wife of Manuel Sampaio and daughter of late Maria Pereira De Melo and of late Joao Pereira De Melo. She leaves behind her loving sons : Fernando Sampaio, Paul Sampaio (Sandra Lopes), Alberto Sampaio (Natasha Arvisais) and Dave Sampaio (Sandra Pacheco); her god-daughter Maria Rocha (Joao Rocha); her cherished grandchildren: Selena, Nicolas, Tyler, Mason, Damien, Angelina, Vanessa and Jacob. She also leaves her sisters: Luciana Silva (José Silva), Liana Aurora (Antonio Aurora) and her brother Joao Melo (Almerinda Melo); her brother-in-law Alberto Sampaio (Irène); nephews, nieces, relatives and friends.
Visitations will be held at LA COOPÉRATIVE FUNÉRAIRE DE L'OUTAOUAIS, 95 Cité-des-Jeunes Blvd, in Gatineau (Hull sector), on Thursday the 3rd of November 2016 from 6:00pm to 9:00pm .The funeral service will be held on Friday the 4th of November 2016 at 11:00 am at Missão Católica Portuguesa  Espírito Santo, located at 13, Ste-Bernadette in Gatineau (Hull sector). 
For those who wish to do so, donations to la Fondation des maladies du coeur du Québec would be appreciated.
The family wishes to thank the nurses and doctors on the 5th floor at the Ottawa Heart Institute for their support and good care.
Online condolences may be made at www.cfo.coop 
Write your sympathies or tribute