LADOUCEUR MALETTE, Gertrude
1919 - 2016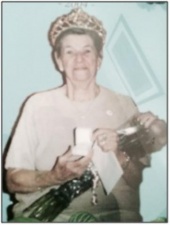 it is with sadness that we announce the passing of
Gertrude Ladouceur Malette
She passed away on December 9, 2016 at the age of 97. Beloved wife of the late Oscar Malette and loving mother of Denis, and the late Frank (Lina), Edgar (Gilberte), Helen (Robert), Gilles (Mabel) and Germaine. Cherished grandmother of seven, and great-grandmother to many. She leaves behind her sister Marie-Alice and her brother Ronald as well as many nephews, nieces and cousins. She was predeceased by her parents Patrice Ladouceur and Evangéline Archambault as well as by many siblings.
 A funeral service will be held on Saturday, December 17, 2016 at  2 p.m. at la COOPÉRATIVE FUNÉRAIRE DE L'OUTAOUAIS, 95, de la Cité-des-Jeunes Blvd. in Gatineau (Hull Sector). Family will receive condolences as of 1:30 p.m. 
The family wishes to thank the staff of Vigi Santé Outaouais  for their excellent care and compassion.
As an expression of sympathy, donations to the Alzheimer Society (www.alz.org) would be appreciated.
Online condolences may be transmitted via www.cfo.coop.
Coopérative funéraire de l'Outaouais tel.: 819-568-2425; fax: 819-568-2426; email : conf@cfo.coop
Write your sympathies or tribute